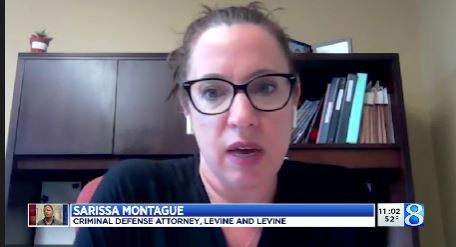 In an interview with WOOD TV8, Criminal Defense Attorney Sarissa Montague said she believes Kent County Prosecutor Chris Becker is likely consulting with use of force experts, something she, herself, has done when representing officers in the past.
On Wednesday, May 18, Becker announced he would need more time before making a decision on whether to charge Grand Rapids Police officer Christopher Schurr in the shooting death of 26-year-old Patrick Lyoya in April. Becker said he's seeking "additional expert guidance" in order to make a "fully informed decision" on whether to bring charges against Schurr.
Video released by GRPD shows that, on April 4, Schurr pulled Lyoya over and Lyoya ran away. There was a struggle that included Lyoya grabbing Schurr's Taser. Schurr, who was on top of Lyoya trying to hold him down, shot Lyoya in the back of the head.
Becker, on Wednesday, did not specify exactly what "expert guidance" he wants. However, Montague said she suspects he is consulting with use of force experts.
"My guess is that Prosecutor Becker is looking to see if the force used in this case — ultimately the deadly force that was used in this case — is reasonable force," Montague told WOOD TV8.
Determining whether Schurr's actions constitute "reasonable force" are at the heart of this case, she said.
"It's complicated," Montague said in her interview. "It's difficult because we see this act that's horrific but then there's a legal standard that gets applied to it."
Montague said a police officer can use reasonable force when the officer is making an arrest and the suspect fights back. Additionally, the officer can use reasonable force to prevent the suspect from fleeing.
Reasonable force, Montague told WOOD TV8, is the "amount of force which an ordinarily prudent and intelligent person with the knowledge and in the situation of the arresting officer would have deemed necessary."
If the force is deemed reasonable, Montague said it's known as "law enforcement authority," and the actions are justified and not a crime.
"I recognize the investigation appears to be moving painstakingly slowly," Becker stated on Wednesday. "However, as in all cases that come before this office, it is imperative that I review all the facts and evidence before making a charging decision. In this situation, my decision can only be made by taking the time to gather all the available information — both from the MSP and from state and national experts."
A key part of this case is the struggle over the taser, according to legal experts. In the video showing the shooting, Schurr is heard yelling "drop the taser, drop the taser" at Lyoya before shooting and killing him. "
Becker said that he and MSP expect to get forensic reports from the manufacturer of the taser and the officer's body camera this week or early next week.
In her interview with WOOD TV8, Montague said that while consulting a taser manufacturer is an option, from a prosecutor's perspective the issue isn't necessarily about how the taser was working.
"What did the officer think at the time, in terms of whether or not it was a danger and a threat to him?" asked Montague.
Watch Montague's full interview with WOOD TV8, here.
Related:
'It's time to move forward.' Sarissa Montague on GRPD officer identified in shooting death of Patrick Lyoya
Kirsten Holz goes live on-air with media during GRPD's news conference and video release of officer-involved shooting of Patrick Lyoya
Randall Levine and Sarissa Montague provide legal insight into fallout of GRPD officer-involved shooting and related protests