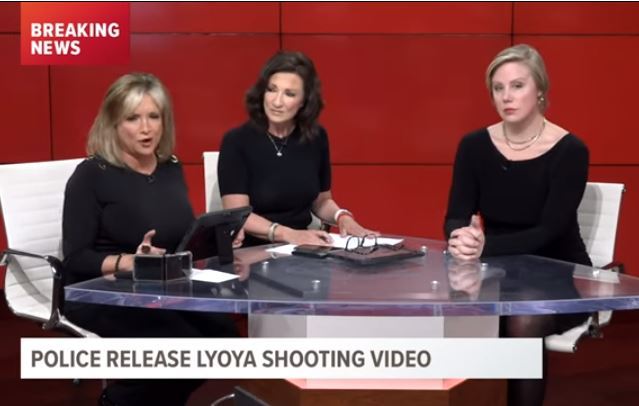 As Grand Rapids Police Department held a press conference on Wednesday afternoon, April 13, and released video of the department's officer-involved shooting death of Patrick Lyoya, Levine & Levine Criminal Defense Attorney Kirsten Holz was live in WZZM 13's studio for the hour-long coverage with news anchors, Juliet Dragos and Val Lego, to provide her legal expertise and insight into the incident and related video footage.
"There are different perspectives on how this interaction started, whether or not it was a traffic stop or whether or not it was simply an officer coming upon Mr. Lyoya having car trouble," Holz told Dragos and Lego moments before GRPD released the video. "I have heard a struggle ensued to some degree, and then at some point in the video, the officer withdrew his firearm, after initially trying to deploy a taser, and ultimately shooting Mr. Lyoya in the head.
"It's an absolute tragedy. And I think what happens in the next few days is really going to depend on the quality and content of these videos."
The shooting death of 26-year-old Patrick Lyoya by a Grand Rapids Police officer on April 4 is being investigated by the Michigan State Police. MSP will then turnover their findings to the Kent County Prosecutor's Office for potential charges.
"I don't envy the prosecutor's job that they have to do in this case," said Holz, who served as district court chief attorney at the Kent County Office of the Defender before joining Levine & Levine. "It's very difficult because what a prosecutor and what a prosecutor's office can prove sometimes is different than what we, as citizens, would like to see happen and that's one of the challenges of being part of the criminal justice system and seeing it firsthand."
Many in the community have questions why GRPD had not released the four videos of the shooting earlier. During her conversation with WZZM's Dragos and Lego, Holz explained that while the policies on use of force, and officer-involved shootings and body cams are posted online for everyone to see, it's ultimately up to the chief when there's deadly force involved whether or not those videos are released, and whether or not the use of force reports are actually provided and disseminated to the public.
"I think potentially, and it's all speculation, but this is an absolute tragedy and any time you have a white police officer involved in the shooting of a Black man, the community will feel righteous outrage and the reality is that these policies that are in place are designed to hopefully increase accountability and increase trust in the process," Holz said. "I've found that the Grand Rapids Police Department has definitely increased its accountability and openness. It's become much more transparent over the past couple of years, specifically the last few months actually."
WZZM chose not to initially air the GRPD-released video live as it was being shown by GRPD as they had not seen the video and did not know what would be shown. During the live coverage, WZZM's Dragos and Lego, along with Holz, were watching the video as it played off camera, and described what they were seeing to viewers.
The first of four video clips, a dashcam video from the GRPD patrol car, shows a struggle between the GRPD officer and Lyoya. This video does not capture any audio from the incident.
"I've watched hundreds of these types of videos and we look for very specific things as defense attorneys," Holz said in regard to Lego's inquiry about seeing any excessive force at this point in the video. "One of the first things I noticed was the officer putting his hands on Mr. Lyoya's arm. That, without more – it's hard to tell – without hearing the audio and the commands that the officer was giving to Mr. Lyoya. You have the right to resist an unlawful arrest whether or not this arrest that he perhaps was going to undertake was lawful or unlawful remains to be seen. You really do need the audio.
"It's fairly standard – this is what we typically see in cases that involve an altercation between an officer and a subject," Holz added of the dashcam video. "I think the body cam video will be particularly telling."
While the video is playing off-camera, WZZM's Dragos and Lego inquire about the rate of law enforcement-related shootings throughout the county. From her research, Holz shared that from the beginning of 2021 through last week (April 4, 2022), there were 78 officers shot and killed in the line of duty; and from that exact same time period, beginning of 2021 through April 12, 2022, there were 1,009 citizens killed and shot by law enforcement officers.
"It really is an epidemic. It's a problem," Holz said during her live interview. "This just happens to be a really good example of what people are encountering with law enforcement encounters, and also what law enforcement is encountering."
Holz theorized what might lead to an increase in officer-related shootings, including the climate to become a law enforcement officer has declined.
"Not many people want to be law enforcement officers these days because they know they are subject to greater negativity than they once were," she told Dragos and Lego. "Trust has eroded to a degree in law enforcement."
As the video continued off air, Holz, Dragos and Lego shared with viewers that they were now watching the footage captured by the GRPD officer's body camera, and that he and Lyoya were now in an altercation on the ground.
"The way these interactions start and continue is important," said Holz. "I can't tell from the video, but whether or not the subject is reaching for the officer's weapon is a key issue; whether or not they themselves are engaging in – if they have a weapon on them, whether they're trying to get the officers taser – those are typical situations where I have personally seen from body cam videos. It does appear that the body cam is still attached at this point."
However, the body camera then becomes deactivated, and GRPD is now showing the third video – a Ring camera captured from a home across the street from the incident, which also captures some of the audio of the incident.
"He's giving lawful commands to Mr. Lyoya," Holz said of the GRPD officer. "But at some point, excessive force was used. In order to use deadly force, the officer needed to have reasonably believed that his life or the life of someone else was in imminent danger or a risk of great bodily harm."
WZZM's Lego asks Holz whether this instance might bring the community back together or create a further divide with the Grand Rapids Police Department.
"That's so difficult to answer," Holz said. "I think it appears that Chief Winstrom is doing a really good job fixing things that were broken within the department. But it takes time. You don't just change the cultural attitudes about law enforcement, policing, racism with regard to law enforcement and policing. I really think it's going to take time. I certainly think that all the steps Grand Rapids has taken to improve transparency and accountability have been wonderful. But, it remains to be seen, what other types of changes Chief Winstrom can put into place so things like this don't happen again."
As GRPD shows the fourth video, a cell phone video taken by the passenger in Lyoya's car, it is here that they see a closer view of the altercation between Lyoya and the officer.
With her experience, Holz shares that certain circumstances might be taken into consideration, including how close together they might be to each other; the relative heights and weights, and strengths and ages of each person involved in a situation like this.
"The law in self-defense in Michigan, it shouldn't matter, it's an objective standard, which means that – if this was to be prosecuted and if this was to go to trial – jurors would be instructed that they need to assess whether this officer reasonably believed, as an objective person, that his life was in danger before he fired his gun," Holz explained to Dragos and Lego. "However, any good defense attorney will absolutely bring up this officer's training and what was actually going on in this prolonged struggle, despite the fact that the law says it's an objective standard."
In the cell phone video, the officer is heard telling Lyoya, "stop resisting." Holz tells Lego and Dragos that this is not a key factor in incident.
"It's not because, at the end of the day, this resulted in a man's death," she said. "In any other type of case, specifically like a fleeing and attempting to elude police or resisting and obstructing, that fact would be important. However, when a gun is pulled out and someone is shot – officers can't shoot subjects for resisting."
After viewing the video clips, Holz explained that the body camera video was quite standard in what one would see and hear.
"Up until the point that Mr. Lyoya was killed, it seemed fairly standard," she told Dragos and Lego. "The jarring nature of a body cam video was there. Many times it's difficult to determine what's being said by virtue of clothes rubbing up against the microphone that's on the body cam. But it really looked fairly typical. It looked like a traffic stop gone wrong, and a struggle between a subject and an officer. I've seen videos like this before, but this one turned."
Upon the conclusion of the fourth video, GRPD Chief Eric Winstrom spoke about the next steps for his department as the case is being investigated. He took questions from those at the press conference, including one where he replied he would not be releasing the officer's name.
Holz said she is not surprised that GRPD is not releasing the officer's name.
"To some degree, I appreciate it," she said during her interview. "The name of the suspect, or the subject of an investigation not being released until and if they decide that charges will be filed seems appropriate to me.
They're outlying in the use of force policies that the Grand Rapids Police Department has set forth," Holz added. "But there comes a point where officers have the option of disengaging, trying a different tactic, holding back and taking down information and trying to pursue it in a different way. He was a solo officer, which complicates things. If there had been another officer there, it probably would have been a very different situation perhaps. It's a tragedy.
WZZM's Dragos and Lego explained that GRPD is reviewing its policies and will be making changes based on the April 4 shooting death of Lyoya. Holz agreed that the department has become more transparent to the public in recent years, but there is room for improvement.
"The Grand Rapids Police Department, in an effort to be more transparent, has posted metrics on training and external complaints and internal complaints on officers," Holz said. "When I looked at it, it looked like it had stopped tabulating data in 2021, likely as a result of the COVID pandemic. But I was able to view some of the policies and some of the policies that were optional, were somewhat surprising to me. How to have really positive encounters with people on the street. And again, how to have encounters with foreign nationals or suspected foreign nationals, and the cultural differences that are inherent in those interactions."
Watch the full on-air coverage, below:
WZZM 13 Live: Grand Rapids press conference releasing videos of police shooting, killing Patrick Lyoya
Related:
'It's time to move forward.' Sarissa Montague on GRPD officer identified in shooting death of Patrick Lyoya
Randall Levine and Sarissa Montague provide legal insight into fallout of GRPD officer-involved shooting and related protests