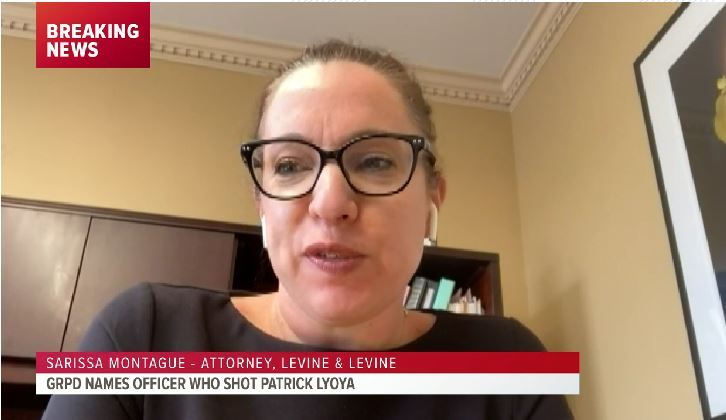 On Monday, April 25, community leaders expressed mixed feelings following Grand Rapids Police Department's release of the identity of the officer who shot Patrick Lyoya on April 4, leading to his death.
Lyoya was killed Monday, April 4, during a traffic stop near the intersection of Griggs Street and Nelson Avenue SE in Grand Rapids. On Monday, April 25, GRPD released the identity of the officer who shot Lyoya during the altercation as Christopher Schurr. GRPD Chief Eric Winstrom initially said he was withholding the officer's name until the investigation is complete and turned over to the Kent County Prosecutor's Office. On Monday, Winstrom said he released Schurr's name in the interest of transparency, "to reduce on-going speculation and to avoid any further confusion."
In an interview with WZZM 13, Levine & Levine Criminal Defense Attorney Sarissa Montague said that names are often unreleased unless charges are filed, and that waiting to release Schurr's name does not necessarily reflect positively or negatively on GRPD. She said now that the officer has been identified, "it's time to move forward."
Montague explained that when it comes to releasing names in high-profile cases, safety is a concern. She said identifying Schurr could pose a danger to him.
"I think it's very difficult to be able to say whether it's good or it's bad, whether it was how it should have been or how it shouldn't have been," Montague said during her interview with WZZM 13. "The fact is that this is a very sensitive issue. There are a lot of concerns to keep in mind from safety perspectives. And I think it's up to the people in charge to figure out what is the best route in order to, you know, to keep people safe as things move forward."
Several local leaders expressed a different viewpoint – saying the release of the officer's name is a step in the right direction, although later than many would have liked.
Kent County Commissioner Robert S. Womack said he's glad the department named the officer, but believes social pressure is likely what led to the release.
"I think it took them too long to release his name," Womack said. "And I think them taking three weeks to release his name is very much proof that if we had not called in national leadership, we probably would not have his name to this very day."
Schurr joined GRPD in 2015. He remains on administrative leave and has been stripped of his police powers until the conclusion of the Michigan State Police investigation into potential criminal charges.
Watch Sarissa's WZZM 13 interview, here.
Related Stories:
Kirsten Holz goes live on-air with media during GRPD's news conference and video release of officer-involved shooting of Patrick Lyoya
Randall Levine and Sarissa Montague provide legal insight into fallout of GRPD officer-involved shooting and related protests