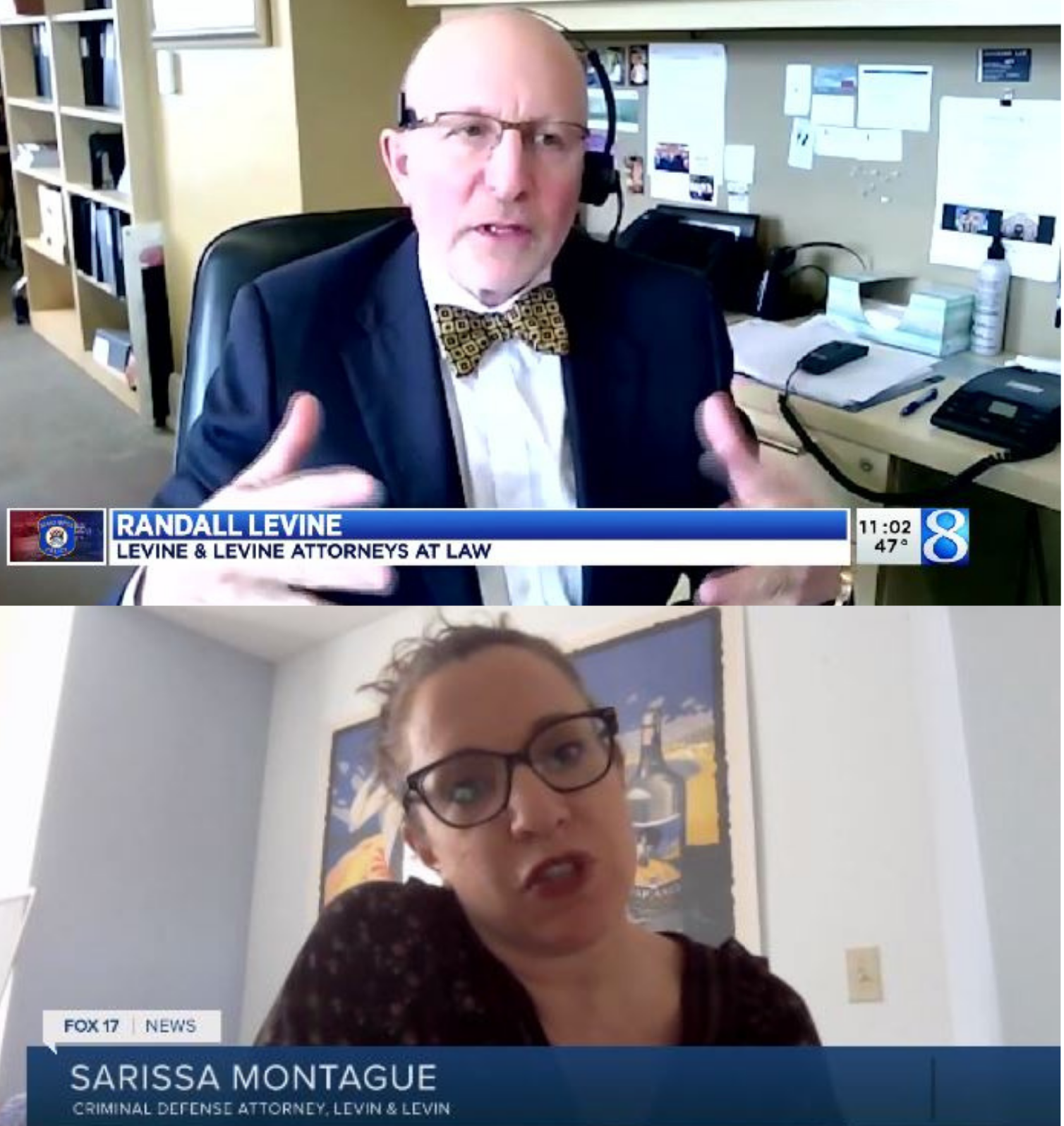 In the wake of the shooting death of 26-year-old Patrick Lyoya by a Grand Rapids Police officer on April 4, many have wondered why the Michigan State Police have not yet interviewed the officer involved since the shooting occurred over a week ago. Additionally, people in the community have come out in droves to protest the shooting.
Randall Levine and Sarissa Montague of Levine & Levine Attorneys At Law spoke with the media about the latest developments in the incident.
Levine, managing partner at Levine & Levine, told WOOD TV8 there is a process that follows a police-involved shooting and it requires time and patience from the community.
"Let the process unfold and let the police do their jobs," Levine said about the delay in MSP's investigation. "Let the prosecutor have the benefit of a full review to see whether or not a crime can be charged or whether or not there was a justification."
A MSP spokesperson said the officer had not yet been interviewed because his attorney was on vacation last week when the shooting occurred, according to WOOD TV8.
Levine explained the fact that the GRPD officer hasn't given a statement isn't necessarily a reason to ring the alarm.
"You could speculate about what it means that he hasn't interviewed within the time that they'd hoped to have him interview but I don't know that that's necessarily that significant in a case like this," he said.
Levine added if the officer believed he would implicate himself criminally, he has the legal right to opt out of making a statement all together. GRPD have not indicated that the officer intends to not make a statement at all.
"You have the potential of a police officer being accused of an offense," Levine told WOOD TV8. "He, like any other private citizen, enjoys the Fifth Amendment privilege. I don't know what happened in this case and no one knows what happened in this case, but he could potentially elect to exercise his Fifth Amendment privilege and not give a statement if he thought that he could potentially incriminate himself."
Grand Rapids police say the officer's decision on when to make the statement doesn't affect the investigation or if charges will be filed. Levine told WOOD TV8 that no matter how the potential criminal investigation ends, there will likely be civil litigation to follow.
Since the April 4 shooting, people have gathered on local streets in protest. Criminal Defense Attorney Sarissa Montague spoke with FOX 17, explaining how the U.S. Constitution protects a citizen's right to protest.
Protests are different from special events, according to the Grand Rapids Administrative Policy 17-02, which details the legalities of protests, vigils, speeches, and other expressive activities within the city.
The policy allows for sound amplification devices, like a megaphone, but it must be no louder than the "average conversational level" 100 feet away from the sound, according to FOX 17. A special events permit allows for use of the equipment without restrictions.
"At the same time that people have a freedom of speech, other people also have the freedom of movement," Montague said during her interview with FOX 17.
While the Constitution guarantees a person's right to express their opinion and other rights, the government holds an interest too that allows them to create certain regulations for expressive activities, although it varies in each city, Montague explained.
"Those regulations usually have everything to do with the time, place, and manner of the protest, but they can't just be very broad regulations," she said during her interview. "The regulations have to be narrowly tailored in order to make sure that the constitutional rights of each of us is being upheld even when there's governmental involvement."
Conduct rules include people not blocking access to a building or other facility during a protest and obstructing car and pedestrian traffic. It prohibits littering or posting materials on city property. Any violation may lead to criminal charges.
Montague advises people research a community's policy before protesting and move forward in a peaceful manner "no matter what" during a demonstration.
"You certainly have the right to your speech and your right to the protest, but at the same time, law enforcement is tasked with the job that people are safe and the community is safe," she said.
Watch Randall Levine and Sarissa Montague's full interviews below:
Randall Levine: MSP has not yet interviewed GRPD officer who shot man last week
Sarissa Montague: What to know about protesting in Grand Rapids
Related:
'It's time to move forward.' Sarissa Montague on GRPD officer identified in shooting death of Patrick Lyoya
Kirsten Holz goes live on-air with media during GRPD's news conference and video release of officer-involved shooting of Patrick Lyoya