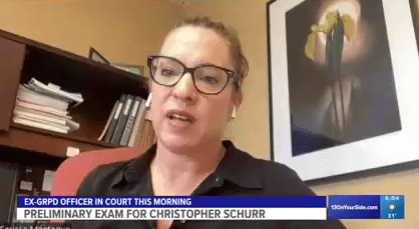 Ahead of the preliminary examination for former Grand Rapids Police officer Christopher Schurr in the shooting death of Patrick Lyoya, Criminal Defense Attorney Sarissa Montague spoke with WZZM 13 on why Schurr's prelim is vital in determining whether there's enough probable cause for the case to head to trial. Schurr, who faces second-degree murder in Lyoya's death, appeared in a Kent County courtroom on Thursday, Oct 27, for the first time since the April shooting where key evidence in the case was presented.
In an interview with WZZM 13 on Wednesday, Oct. 26, Montague said, "Although all of the evidence associated with the matter isn't presented at the prelim because it's not needed, certainly the most important evidence usually is presented at a prelim."
Montague, who is not involved in the case, said anyone who is an eyewitness to a case usually gets brought in to the prelim.
During her interview, she added: "Anyone who has any pertinent information about what happened on that day, but not information from what they read on the news – but personal information that they have, either because they were involved in the investigation, or they were there at the time that had happened."
As far as how much evidence can be presented, there's really no limit.
"Sometimes they can take 20 minutes. Sometimes they take place over a course of a month. It depends on the specific situation and the amount of evidence that needs to be presented," said Montague. "There's no magic formula, it's up to a prosecutor's office to determine how much they need to show in order to get the finding that they're hoping to get."
While several records of the shooting have been released to the public, including witness interviews, the incident report and dispatch recordings, one thing that has not been made public is Schurr's narrative of the shooting and the reason he used force.
"It doesn't mean that just because a case gets bound over at the preliminary exam that that person will be convicted at trial where the standard is proof beyond a reasonable doubt," Montague explained to WZZM 13. "Those are two very different things."
Watch Ms. Montague's full interview, here.