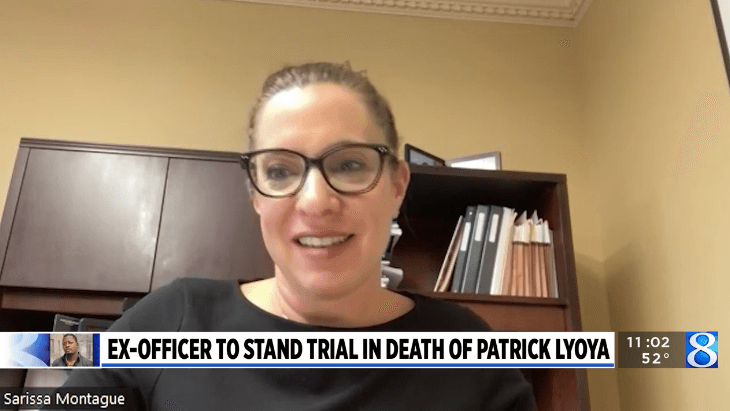 Criminal Defense Attorney Sarissa Montague, who has experience defending police officers, called Judge Nicholas Ayoub's decision to order former Grand Rapids police officer Chris Schurr to stand trial in the shooting death of Patrick Lyoya "completely correct" during an interview with WOOD TV8.
On Monday, Oct. 31, Judge Ayoub ruled a jury must decide whether Schurr is guilty or not guilty of second-degree murder in Lyoya's death in April.
"…Factual questions remain as to whether the defendant reasonably believed that his life was in imminent danger (or that he was in imminent danger of suffering great bodily harm) and that deadly force was reasonably necessary. These are questions of fact that the jury must decide based on the totality of the circumstances as presented by the evidence at trial," Ayoub's decision reads. "…Law enforcement officers are required to make split-second decisions of life and death which cannot be judged through 20/20 vision of hindsight from the vantage point of the judge's bench. It is precisely for this reason that defendant must be bound over for trial to allow a jury to make that factual determination, taking into account all of the evidence produced at a full and fair trial."
Montague, who is not involved in the case, called the judge's decision "completely correct."
"(These) are questions for the jury … that is a decision to be made by a jury of the defendant's peers," Montague said in her interview with WOOD TV8.
Montague explained that the judge needed to find whether there is probable cause that a crime was committed and that Schurr committed that crime.
"When you're only dealing with a probable cause standard, in most cases, probable cause standard is very low," she said. "It's very different from proof beyond a reasonable doubt. So, most cases do get bound over to circuit court after a preliminary examination was held.
"I can't stress enough the difference between a probable cause standard and a proof beyond a reasonable doubt standard," Montague added. "Those are two very, very different things."
Montague told WOOD TV8 there are evidence and witness issues that need to be address, and expects it will be several months before the trial begins.
"There's probably a number of motions that will be filed before the court to make pre-trial determinations about the type of evidence that is able to be presented at trial," she said.
Montague also expects debates over what instructions will be read to the jury, like what they should keep in mind when approaching the issue of self-defense.
"There are standard self-defense instructions, but that doesn't mean that every defendant is entitled to a self-defense instruction," said Montague. "In order for a jury to be instructed on the issue of self-defense, information needs to be provided at trial. And that's when the jury, only if that initial information is provided at trial, will get instructed on the issue of self-defense."
When the jury selection process begins, Montague explained that it could run smoothly or prove to be difficult in finding 12 fair and impartial people who will decide the fate of the former police officer.
"I've had my own experiences with a trial involving a police officer where we were the defense, and we thought it was going to be very difficult to seat a jury, and in fact it was very easy," Montague told WOOD TV 8. "What you expect and what actually happens at the time of trial are two different things."
Watch the full interview, here.