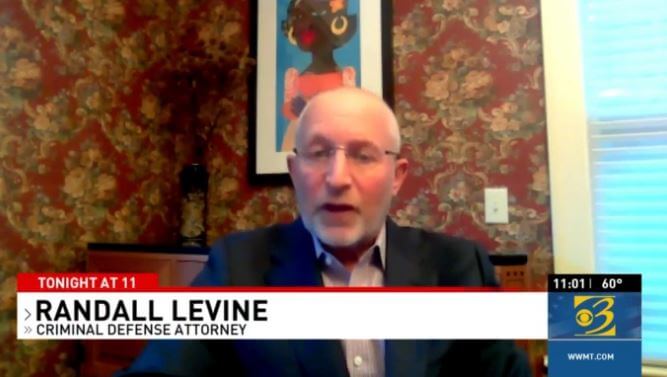 Since the shooting death of Breonna Taylor, a Grand Rapids native, in Louisville last March, there has been a new awareness about the different types of warrants. Managing Partner Randall Levine recently spoke with WWMT Channel 3 about how knowing your rights as a citizen when different types of warrants are conducted is crucial.
On the night Taylor was shot and killed by Louisville police last March, police had served a no-knock search warrant looking for Taylor's ex-boyfriend.  A grand jury recently indicted a former Louisville police officer with wanton endangerment for his actions during the raid. No charges were announced against the other two officers who fired shots, and no one was charged for causing Taylor's death.
"Before they can execute that warrant, they are to announce their presence and the reason. Very simple," Levine told WWMT.
He said there are several types of search warrants law enforcement can issue.
Police can issue an affidavit to conduct a search warrant on your car, cell phone, home or anything that is protected by the Fourth Amendment, but before they can execute a lawful warrant, it must be signed by a judge.
"As a citizen, you are obligated to let them execute the warrant," Levine said during his interview with WWMT. "Now, if they execute the warrant and it turns out the warrant is bad, then that's a different story." 
In the case of a bad warrant, judges can suppress evidence or, in some cases, the person cannot be prosecuted, according to Levine.
Related: Randall Levine speaks with media on grand jury indictment in the shooting death of Breonna Taylor
The most controversial of search warrants are no-knock warrants.
"You can do them [no-knock search warrants] here in Michigan, but I've never heard of anyone doing it. But in order to get a no-knock search warrant you have to go to the judge with specific details outlining the reason for that no-knock search warrant," said Kalamazoo Department of Public Safety Lt. Matt Schemenaeur, a 17-year veteran of the department. He said the reason for no-knock warrants would be to prevent evidence from being destroyed.
Both Levine and Schemenaeur said if you are being served with a warrant the best thing to do is comply with officers.
"Get out of their way, do not interfere with them in any way and then take the search warrant affidavit to an attorney after it's executed, because they are obligated to leave it, and have it reviewed to determine whether or not the police have the right to do what they did," Levine told WWMT.
Watch Levine's full interview with WWMT, here.