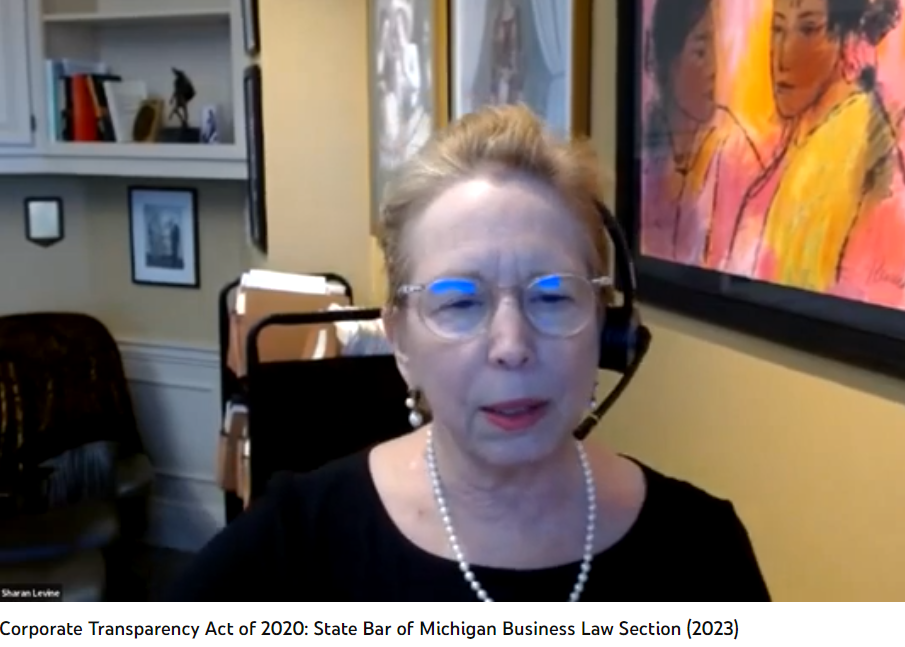 In February, Partner Sharan Levine, who specializes in business law, estate planning, trust administration and real estate law, moderated an online forum for fellow legal practitioners regarding the Corporate Transparency Act of 2020: State Bar of Michigan Business Law Section.
During the forum, Levine introduced Mark High of Dickinson Wright PLLC in Detroit, who worked on materials regarding the Corporate Transparency Act of 2020 with Alexis Lupo, director of the Corporations Division, Licensing and Regulatory Affairs in Lansing.
The Corporate Transparency Act was enacted as part of the National Defense Authorization Act of 2020 in order to address money laundering problems around the world, coming up with anti-money laundering approaches and responding to international requirements.
High shared that the Corporate Transparency Act requires "reporting companies" to register "personally identifiable information" of individual "beneficial owners" with Financial Crimes Enforcement Network (FinCEN) of U.S. Department of Treasury. Reporting companies include LLCs, LLPs, LLLPs, and similar entities organized by filing with Secretaries of State or equivalent office or tribal government, statutory trusts or business trusts and non-U.S. entities qualified to transact business in the U.S. Nonprofits, general partnerships and sole proprietorships are excluded.
Toward the end of the forum, Levine took questions from attendees, including questions how it is enforced and audited.
High detailed what registration exemptions fall under the Corporate Transparency Act, and additional details for the act, including new entities, beneficial owners, reporting requirements, company applicants, who files, when to file, enforcement, auditing and penalties for violations.
"I encourage you to share the materials with your colleagues," Levine said during the forum. "I'm sure there's going to be much more discussion about this this year. We look forward to seeing the forums that are going to happen and will be filed. It's important for all of us to understand and process this."
The forum can be viewed online, here.