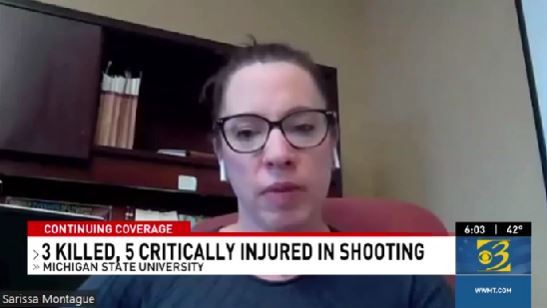 After Michigan Attorney General Dana Nessel raised concerns over the criminal record of the gunman who shot and killed three students and injured five others on the Michigan State University campus, Criminal Defense Attorney Sarissa Montague explained to WWMT Chanel 3 that a small number of criminal charges classified as high court misdemeanor or low-level felonies can be treated with punishments like a felony.
On Monday, Feb. 13, Anthony McRae, 43, shot and killed Brian Fraser, 20, Alexandria Verner, 20 and Arielle Anderson, 19, in the mass shooting. It's unclear how McRae obtained two guns used in the shooting spree on the MSU campus that led to a hours-long manhunt.
McRae, who shot and killed himself when police located him, had a criminal history involving firearms and was on probation for 18 months for possessing a loaded gun. He pleaded guilty to a misdemeanor charge of possession firearm in or upon a vehicle in 2019, according to Ingham County court records.
Michigan Attorney General Dana Nessel said the law should have prevented McRae from legally owning a gun.
"The charge under Michigan law is either a low court felony or high court misdemeanor, for the purposes of being able to legally possess a weapon, it's considered a felony," according to a statement from Nessel's office.
Lansing Police arrested McRae after he was found sitting on the back steps of an abandoned building smoking a cigarette and told officers he had a loaded weapon without a concealed permit in June 2019, according to court records. In exchange, prosecutors dropped a felony count of carrying a concealed weapon, according to Ingham County court records.
In Michigan, convicted felons may not use, possess, transport, sell or carry a firearm for either 3 or 5 years. A judge petition could be required if firearm rights are not automatically restored within that time frame.
"McRae pleaded to a high court misdemeanor, which for certain purposes in the law it is treated as a misdemeanor, but for other purposes is treated as a felony," Montague said in her interview with WWMT Channel 3, stating she needed more time to review relevant laws and legal precedent to determine if she agrees with Nessel's assessment. "It is a complicated legal issue."
"I, as your attorney general, will do everything I can to aggressively enforce those laws," Nessel said during a MSU student rally at the State Capitol in Lansing.
McRae had guns and mental health problems, according to his father Michael McRae, who told News Channel 3 he had no idea how his son carried out a horrific act.
McRae lived with his father at his Lansing home, located less than a mile from where the 43-year old shot and killed himself. Neighbors said McRae was a loner who they sometimes heard shooting guns in his yard.
"He stopped talking to me, he stayed in his room. He got worse and started acting crazy," McRae's father said.
After McRae's death, investigators found a note in his pocket, where he threatened shootings at two New Jersey schools, in the state where he grew up.
"We continue to dig into background to make sure we don't miss anything and who he is," FBI Special Agent in charge James Tarasca said.
Read the full story, here.