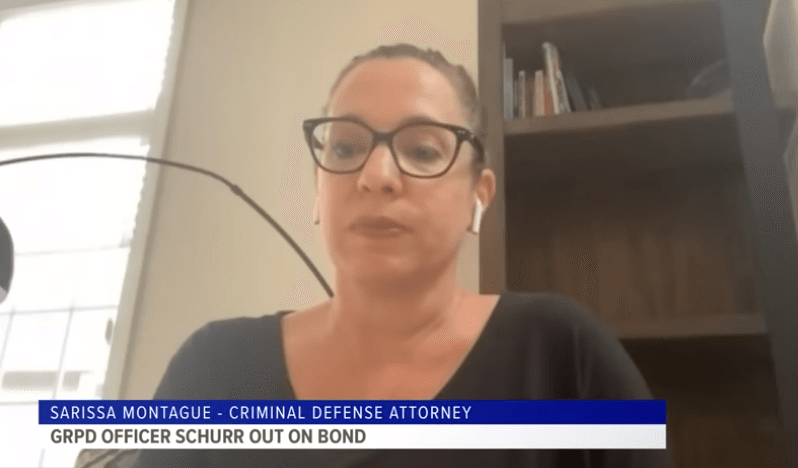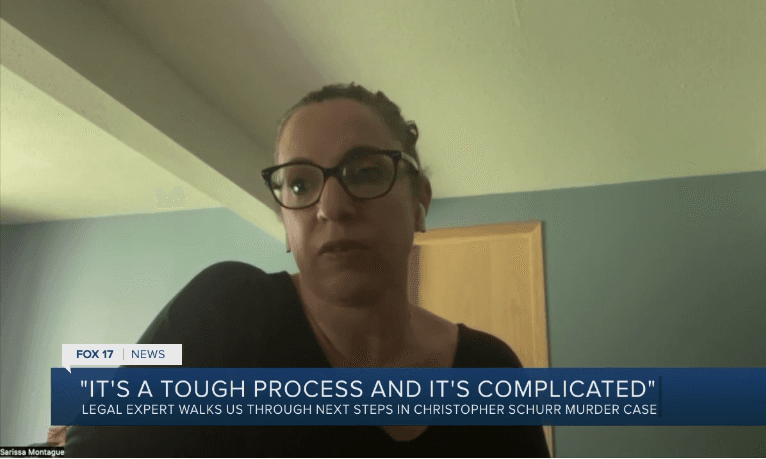 Criminal Defense Attorney Sarissa Montague spoke with media about the bond set for the Grand Rapids police officer accused in the shooting death of Patrick Lyoya, and next steps, possible challenges in the case.
On Friday, June 10, GRPD Officer Christopher Schurr appeared before a Kent County Judge, virtually from Calhoun County Jail, and pleaded not guilty to the second degree murder charge related to the shooting of Patrick Lyoya in April. The judge set Schurr's bond at $100,000 cash surety, which was posted that day.
Montague spoke with WZZM 13 about how certain factors come into play when a judge is considering bond for someone, and the severity of the charge isn't necessarily factored into that decision.
"It is not that surprising based on this particular defendant, in my opinion, that the bond was set in the way that it was," Montague said during her interview with WZZM 13. "It's still very high – $100,000 is still a very high bond."
The judge followed a bond statue to decide if Schurr was eligible by considering if he was a flight risk and taking a look at his criminal background. Both went in Schurr's favor, and one of those factors was met because he didn't leave the area, according to Montague.
"In order to become a police officer, you have to have a pretty extensive background check done, and he passed that," she told WZZM 13. "Although there is this particular incident, there's the general consideration of danger to the community (that) pretty much does go in his favor."
Montague explained that this statute applies to everyone when a judge is considering bond, and the only thing out of the ordinary to her is that Schurr didn't turn himself in or spend the night at Kent County jail.
"I've been involved in other experiences, or have been aware of other experiences, where somebody involved in the law enforcement field has gotten in trouble him or herself, and they have possibly enforced laws against other people who are in the county jail," said Montague. "And that's an issue of safety for everybody involved in the jail.
"Unless there's a problem, typically, the initial bond set is the bond that stays throughout the pendency of the case," she added.
In an interview with FOX 17, Montague shared she, like many, has watched this case unfold from the moment Schurr shot and killed Lyoya.
"It's a tough process and it's complicated and it's going to go on for some time because that's how the process works," she told FOX 17 during her interview. "I'm sure both the defense and the prosecutor will go into the case anticipating that it will be difficult to pick a jury based on the media attention that this case has received, but until the time comes … no one's going to know if it's going to be hard or if it's going to be easier than anticipated."
Throughout her career, Montague has worked a criminal case where she was defending a police officer. She says picking a jury in this case could be tough because it's the community Schurr serves.
"The emotional component of the case, the reaction by the community to the case, negative. You know, obviously the negative emotions that people are feeling because of this situation, that is going to be something that the defense and the prosecutor also take into consideration," said Montague. "Overall, there are constitutional rights in place and they have to be adhered to. Allow the process to work through."
Schurr is expected to remain out of bond up until there's a verdict in the case, unless he violates bond terms or a motion to amend it by the prosecution or defense. Schurr is expected back in court for a probable cause hearing on June 21.
Watch Montague's interviews below: