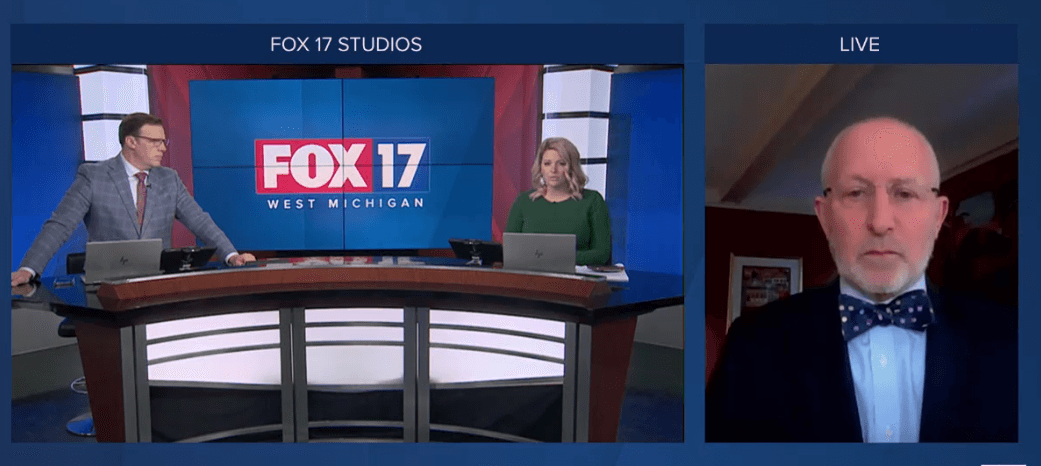 Criminal Defense Attorney Randall Levine, managing partner at Levine & Levine Attorneys At Law in Kalamazoo, spoke with Fox 17 about the jury selection process in the trial of a former Minneapolis police officer charged in George Floyd's death.
Derek Chauvin is charged with second-degree murder and manslaughter in Floyd's death. Floyd was declared dead on May 25, 2020, after Chauvin, who is white, pressed his knee against the Black man's neck for about nine minutes, holding his position even after Floyd went limp. Floyd's death was captured on widely seen bystander video and sparked nationwide protests and a movement calling for racial equality.
As jury selection is expected to begin, Levine offered expertise in the process and what the public may expect to see during the trial.
"It's going to be a herculean task, but the court, defense lawyers, and prosecutors have all developed a jury questionnaire to start the process," Levine told Fox 17. "It's going to be difficult to seat the jury in this case. The court has advised the panelists they can expect three weeks of jury selection. There are hot-button issues that the jurors who answer the questionnaire will be required to answer in the privacy of their homes, such as race relations, police brutality, drug use, and a myriad of topics that the jurors will be called upon to address in the jury questionnaire before they even come into the court room."
Levine explained lawyers involved in the case will be using the jury questionnaire as a spring board to determine who can set aside what they know about the case and be fair.
"It's going to be very difficult to find people who haven't seen this (bystander) video," he said during the interview, noting that one of the questions in the jury questionnaire is if they, the potential jury member, has seen the video, and if so, how many times. They'll also be asked if they have opinions about the video, and whether those opinions can be set aside for a fair trial.
During jury selection, Levine said the defense will be looking to find people who are politically conservative and pro-police, while prosecutors will be looking for people who feel the justice system sometimes treats Black people and people of color differently than those who are white.
When the trial begins, the defense is expected to rely upon the results of Floyd's toxicology report, stating he had fentanyl and methamphetamine in his system at the time of his death, and argue that was the cause of death. Prosecutors will argue it was police who used an improper chokehold that caused Floyd's death.
"These are questions that have to be decided based on the evidence and evidence admitted in the courtroom only," Levine said during his interview. "It's going to be a difficult case for both sides."