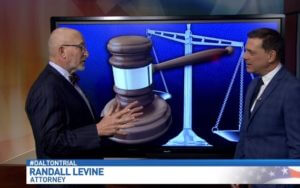 As jury selection for the Jason Dalton trial is expected to begin on Thursday, Jan. 3, in Kalamazoo, WWMT TV spoke with Randall Levine, managing partner at Levine & Levine, about how a jury is handled in a publicized trial, such as the Dalton case.
"This is a high-profile case and most people walking in that courtroom for jury selection will have heard something about the case. That, in and of itself, does not disqualify you to sit as a juror. Jurors are expected to come into the courtroom and not throw the life experiences and things that they've heard or sensed away," Levine said during the interview.  "On the other hand, if what they've heard has poisoned their ability to be impartial then they cannot sit in a case like this."
Levine also explained there is a possibility that the case could go to trial in a different location.
"The only way that the court can really determine whether or not a change of venue is appropriate because there are too many people who have formed opinions in the community and are too biased to sit as jurors is to give it a try," Levine said. "So, what I would expect is if the waters become rocky sometime during the process and it appears to be too difficult, or too onerous, for the court to get a jury that a defense attorney may make a request at that time and the court can, at any time, entertain a request if it appears that the efforts to seat a fair and impartial jury are becoming futile."
In addition to WWMT, Levine was also called upon as a criminal law expert for the Dalton case by WZZM 13 and FOX 17.
     Watch the full interviews below: