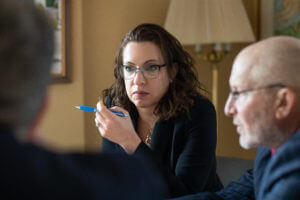 Levine & Levine Criminal Defense Attorney Sarissa Montague spoke with MLive reporter Gus Burns about why a Wolverine Watchmen militia member is now helping prosecutors in their efforts to convict fellow group members accused of plotting to kidnap Gov. Gretchen Whitmer.
Maxwell Wyckoff, 22, of Clarkston, a Wolverine Watchmen militia member whose associates are accused in the kidnap plot, is charged with two felonies: converting a semiautomatic weapon to an automatic weapon, and possessing a muffler or silencer device. Now, in exchange for leniency, Wyckoff has accepted the plea deal and pleaded guilty during a remote hearing in Oakland County Circuit Court, MLive reported.
"The plea includes the assurance that Wyckoff will cooperate with the Department's ongoing investigation into the Wolverine Watchmen and the eight members involved in the alleged plot to kidnap the governor," announced the Michigan attorney general's office said.
Although investigators have not indicated what information Wyckoff has that may be important to the AG's prosecution of eight men charged in Michigan for their roles in the alleged kidnap plot, Montague, who is not involved in the case, offered legal insight, telling MLive:
"I don't know specifically what information he has, and I don't think that we can presume to know exactly what it is that he has or who it's against. He definitely has something that the government wants though, and part of the agreement, I'm sure, is that he provides truthful information, and if the information he provides is found to not be truthful, then my assumption is that the government could withdraw from the agreement."
Read the entire story, here.