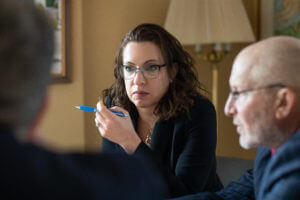 As a defense attorney, it is my job to represent my client and fight for their rights enacted by the Constitution. It is also my job to stand up for my client, and to the best of my ability, right any wrongs when handling their case.
The latter scenario occurred recently to a client of mine who had been charged with domestic violence and disturbing the peace as a result of an incident that happened between him and his parents.
The parents and their adult son, "Sam," got into an altercation. Anger set in and tempers flared up among all involved. The parents called the police and reported Sam had assaulted them. Within the following days and weeks, the parents contacted multiple divisions of law enforcement and confessed that they had lied – Sam had not physically assaulted them, and he had not done the things they initially claimed he did. But it didn't matter – the government refused to listen to them and refused to believe them. The prosecutor authorized charges of domestic violence and disturbing the peace against Sam.
As a result of the charges, Sam lost his job. The case continued for months all while Sam could not work in his profession.
The government then came to us with a plea offer for Sam. We did not accept the plea as Sam was innocent of the charges. Therefore, we prepared for trial and showed up ready to take the stand on the morning his case was scheduled.
We had all of our witnesses sitting in the courtroom ready to go when the prosecutor asked the court for an adjournment. I adamantly opposed the adjournment. Sam's life had been put on hold for months because of false allegations. Sam couldn't work; his parents were missing work because they had been subpoenaed for trial; and I had spent hours preparing for trial. The judge agreed that an adjournment was not appropriate and ordered the case to proceed. At that time, the government asked for a dismissal without prejudice. If a case is dismissed without prejudice it can be refiled. This would have been terrible for Sam. Another six months without being able to work. Either trial needed to proceed, or the case needed to be dismissed with prejudice. (If a case is dismissed with prejudice it cannot be refiled.) Thankfully, the judge agreed and the case was dismissed with prejudice. Finally, after a six-month nightmare, Sam is able to move forward with his life.
As a defense attorney, there are many times when injustices are done against my clients. It is my job to stand up for that person and, to the best of my ability, right the wrong. In this case, although it took some time, justice was served. This is what we strive for every day.
-- Sarissa Montague, Levine & Levine Attorneys At Law