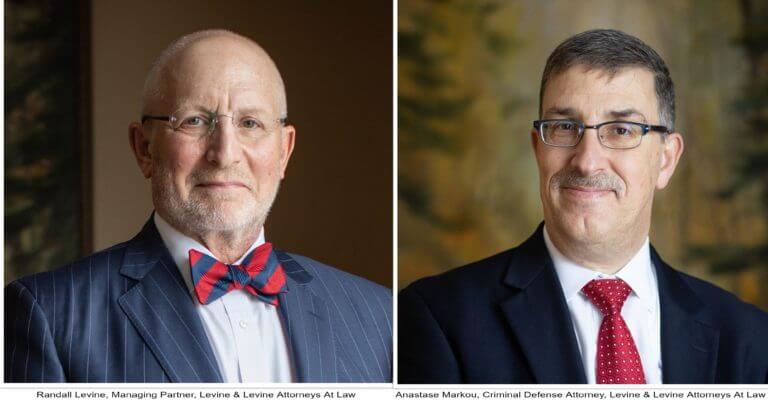 Criminal defense attorneys at Levine & Levine were called upon by the media for their criminal defense expertise as three of the five men accused in a plot to kidnap Michigan Governor Gretchen Whitmer made their first appearance in federal court.
Randall Levine and Anastase Markou, who are not defense attorneys in this specific case, spoke with WZZM 13 and Fox 17, respectively, about what a possible defense strategy could look like based on the U.S. Constitution.
Adam Fox, of Grand Rapids, Ty Garbin, of Hartland Township, Kaleb Franks, of Waterford, Daniel Harris, of Lake Orion, and Brandon Caserta, of Canton, have been charged by the federal government in a conspiracy to kidnap Whitmer.
Caserta, Franks, and Harris appeared in front of U.S. Magistrate Judge Sally Berens in U.S. Federal Court in Grand Rapids for a bond hearing on Tuesday, Oct. 13. Bond hearings for Fox and Garbin are scheduled for later this week.
Markou explained there could be various possible strategies the accused might use as a defense in the case.
"The prosecutor has to prove various elements of each crime alleged in order for the person to be found guilty," Markou told WZZM 13. "And when you look at elements involving a federal case, one of the things they have to prove is that somehow or another the actions involved here invoke or involve federal jurisdiction. So, for instance, if everything was done within the state and nothing was done through interstate commerce in any way, then that's one possible offense."
In an interview with Fox 17, Levine said there is a burden of proof the government has to meet.
"This is a conspiracy charge. A conspiracy is an agreement by a number of people – more than one person – to commit an unlawful act," he explained during his interview. "That the defense opposed will involve claims that the speech was protected by the First Amendment and/or it was merely speech and it did not contain overt acts sufficient to constitute a crime."
Levine said conspiracy charges are easily brought against individuals but are difficult to defend.
"The defense, generally speaking, will be that the acts of the conspirators did not go far enough in order to express their intention to do harm," Levine told Fox 17. "I suspect the defendants will be putting forth a defense that the things that they did not go far enough to constitute a criminal conspiracy."