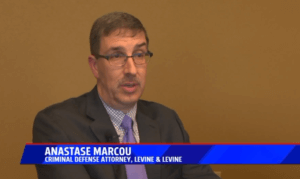 After the "Golden State Killer," who is accused of homicides and rapes from the 1970s and '80s, was arrested last week, details came out about how he was located using a DNA match through an ancestry website.  Levine & Levine Attorney Anastase Markou, with more than 20-years in state and federal criminal defense and appellate work,  spoke with FOX 17 about the legality of uncovering evidence through the use of genealogy sites.
Markou told FOX 17, "It's a game-changer in the way in which police may be able to solve unsolved cold cases. They were able to use databases like 23 and Me. It wasn't the 23 and Me database, but they used a database like that, plugged in the DNA, and were able to eventually track it to the person that they've now charged with the crime."
As more cases are solved similarly to the "Golden State Killer" case, Markou believes there will be lawsuits challenging this type of evidence gathering. And during his interview with FOX 17, he questioned the constitutionality of this method.
"Is this a violation of your fourth amendment right, to be free of unreasonable searches and seizures? Is this a fourth amendment violation of your privacy? People have a lot more digital information out there, that doesn't mean they're authorizing the police to look at it," said Markou.
You can watch Markou's full interview with FOX 17 by clicking here.