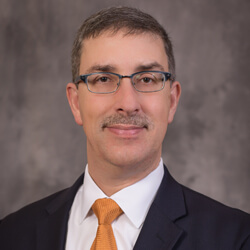 The case examines whether Jason Dalton's interviews with police violated certain constitutional rights
The Michigan Court of Appeals on Tuesday, July 31, ruled that the police violated Jason Dalton's constitutional rights and none of his statements will be admissible at trial.
The ruling comes over a year after Anastase Markou of Kalamazoo-based Levine & Levine submitted an Interlocutory Appeal to the Court of Appeals on behalf of Dalton. In March, the Supreme Court had ordered the Court of Appeals to determine whether portions of Dalton's statements to police are admissible at trial. Markou is serving as the court-appointed appellate attorney for Dalton as his trial attorney, Eusebio Solis, does not practice appellate law.
Following the Appeals Court's decision on Tuesday morning, Markou said: "In our system of justice, everyone – no matter the severity of the crime – is entitled to their constitutional rights. As a criminal defense attorney, our fundamental role is to help to preserve everyone's constitutional rights and the constitution itself."
The appeal case examined whether interviews of Dalton conducted by police violated his 5th Amendment right to be free from self-incrimination and his 6th Amendment right to counsel. Dalton is being held in the Kalamazoo County Jail for the shooting deaths of six individuals and injuring two others in February 2016. 
During the July 10 oral arguments in court, Markou contended Dalton's rights were violated during two police interviews based on several independent factors. On Tuesday, the Court of Appeals agreed.
"We reverse the trial court's partial denial of defendant's motion to suppress and remand
to the trial court for entry of an order granting the defendant's motion to suppress the statements he
made in both interviews conducted by law enforcement," the opinion states.
The court's ruling is based on the following:
The public safety exception, which allows police questioning despite the absence of a waiver of  Miranda, is not applicable when a person has been read Miranda rights and then those rights are invoked.
The type of questions asked of Dalton and when they were asked during the first interview did not fit the public safety exception.
Law enforcement did not honor Dalton's invocation of his Miranda Rights during both interviews, and because of the first interview, the second interview was a product of an illegally-obtained confession.
Dalton did not initiate a conversation with law enforcement after asserting his Miranda Rights during the second interview; moreover, the law enforcement officials continued to interrogate Dalton and did not respect his Miranda Rights.
Police should not have interacted with Dalton until an attorney, at Dalton's request, was made available to him.
"This is a tragic and horrific event for the City of Kalamazoo and its citizens.  Our hearts go out to the victims of this senseless crime spree," said Levine & Levine managing partner Randall Levine.  "It is important to recognize that in a free society everyone accused of a crime must be afforded due process of law. This includes strict adherence to constitutional principles, which serve to preserve our democratic society.  The Court of Appeals addressed the issues which were raised by Attorney Anastase Markou in a thorough and comprehensive manner. The trial will now occur on the question of the defendant's guilt or innocence."
Dalton's appellate attorney, Anastase Markou, is available for media interviews regarding the Supreme Court decision.