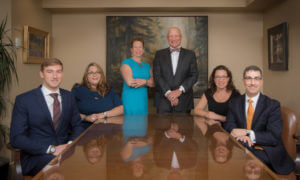 Levine & Levine attorneys had the opportunity to attend Kalamazoo's Legacy Ball on Friday, Feb. 17, in support of Judge Alexander Lipsey who was honored during the event. Held in recognition of Black History Month, this was the ninth annual Legacy Ball to occur and was hosted at the Radisson in downtown Kalamazoo.
The event celebrates local scholarships and awards community members for their leadership and involvement. Lipsey, who is the Circuit Court Trial Division Judge & Chief Judge Pro-Term for the 9th Circuit Court was one of three community honorees who spoke at the event. Other honorees included Chris Sligh, director of Student Activities and Leadership Programs and associate director of Bernhard Center at Western Michigan University, and Dr. Janice Brown, executive director of The Kalamazoo Promise and former superintendent of Kalamazoo Public Schools.
Over the years, the Legacy Ball has awarded over $70,000 in scholarships. During this year's event, scholarships were presented to Kalamazoo PUSH For Learning, which received $600, and the Kalamazoo Deacons Conference, which received $2,300.