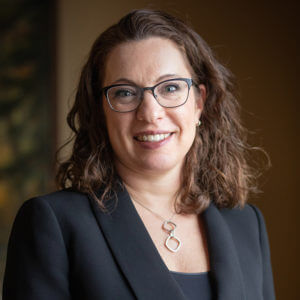 Our nation's police officers take an oath to serve and protect their community and its citizens. While their everyday job is to honor and enforce the law, there are times when officers find themselves in need of an experienced and talented criminal defense attorney.
In Michigan, Levine & Levine Criminal Defense Attorney Sarissa Montague has become an attorney who police officers rely upon to defend them and to protect their constitutional rights.
Most recently, Montague has been called upon to defend Richard Trask, the lead FBI agent in the case against the persons accused of plotting to kidnap Gov. Gretchen Whitmer. Trask is charged with one felony charge of assault with intent to do great bodily harm less than murder stemming from an alleged domestic incident in his home. Montague, who recently appeared on Trask's behalf stressed the need for grace and privacy for the Trask family, and the importance of the case being tried in the courtroom, not the media.
Throughout the past few years, Montague has had great success in the defense of police officers facing criminal charges.
In 2019, Montague convinced a jury that her client, former Mattawan police officer Chelsey Omilian, was justified in firing her gun at a reported stolen car while trying to stop a dangerous fleeing felon.
Omilian was charged with reckless use of a firearm after firing five shots as the reported stolen vehicle fled from her as she attempted to stop it. During her jury trial, the prosecutor claimed Omilian was reckless when she opened fire. The jury found that Omilian was justified in using force to attempt to stop a fleeing felon, whom she had reason to believe was armed and dangerous, and she was acquitted.
Earlier this year, Montague successfully defended another police officer who had been charged with domestic violence and disturbing the peace as a result of an alleged altercation with his parents. The parents retracted their initial report against their son; however, the government insisted on moving forward with the case.
On the day the case was scheduled for trial, the government was not prepared to proceed and sought an adjournment. The judge ordered the case to proceed. The government asked for a dismissal without prejudice, which would allow the case to be refiled. Montague persuaded the court to dismiss the case with prejudice. This allowed her client and his family to have immediate closure, allowing them to move forward with their lives.
Montague strongly believes in the presumption of innocence and that every person, regardless of their occupation, has the right to fight for justice when they are accused by the government. She is often called upon to cross examine police officers who testify on behalf of the government when her clients face criminal charges. Nonetheless, if a police officer is charged, Montague is prepared to vigorously defend them as she does with ALL of her clients. Police officers across West Michigan know this and have come to rely on her expertise when the need arises.