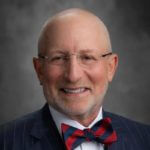 Levine & Levine Managing Partner Randall Levine was sought out by WWMT Channel 3 for his insight into the recent dismissal of criminal charges against former Michigan State University President Lou Anna Simon.
On May 13, a judge made the decision to dismiss the criminal charges against Simon citing the prosecution's lack of evidence, saying they couldn't prove what Simon did know and did not know about the sexual misconduct complaints against convicted pedophile Larry Nassar, a former Michigan State University sports doctor, currently spending the rest of his life bars. More than 200 victims said he inappropriately touched them while receiving treatment for injuries.
"A circuit court judge found that there was insufficient evidence found to establish she knowingly and willfully lied to the police in 2018," Levine told WWMT during his interview.
Levine has been following the case from the start.
"A probable cause hearing was held in this case and the circuit court judge, in reviewing the district court judge's decision as to whether or not this was probable cause, found that the district court had abused their discretion and that there was no probable cause that the crime had allegedly happened," he said.
Lee Silver, Simon's attorney, said he believed the judge's decision was thorough and complete.
Watch Levine's full interview with WWMT, here.