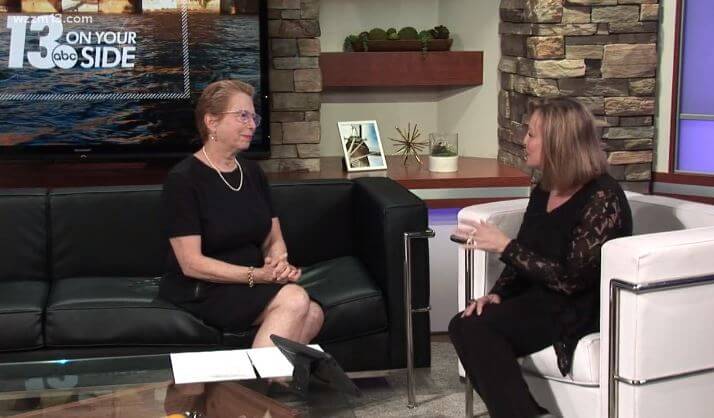 After new handwritten wills were recently found in the home of the late Aretha Franklin, Levine & Levine Managing Partner Sharan Levine talked with WZZM's Juliet Dragos about whether those wills will hold up in a court of law.
According to court documents, three handwritten wills were discovered in Franklin's Detroit-area home earlier this month, two in a locked closet for which the key was hard to find, and one in a spiral notebook stuffed under cushions on a sofa. The "Queen of Soul," who died in August 2018, did not have an apparent will at the time of her death.
"Handwritten wills are legal in Michigan," Levine said during her on-air interview with WZZM on Tuesday, May 21. "Handwritten will have to be dated and printed in the handwriting of the testator. And their signature must match a material portion of the handwritten part of the will."
With the fact that there are now three wills associated with the legendary singer, Levine explained how the dates and conditions of each will could provide new provisions in Franklin's estate.
"It's going to be a real puzzle for the judges and all the parties to examine it," Levine said.
She recalls when the late musician, Prince, died without an apparent will or estate plan in 2016. Many questions arose about what happens to a person's property and wealth if you die without a will. It also reminded people to think and do something about their own estate plans, Levine said. 
Prince died intestate, which means the state law for the distribution of his assets will trump any wishes or intentions Prince may have had for his property but did not put in writing, according to Levine.  Michigan law determines who is to get the property of the deceased if you do not exercise control over your property and assets.
Three years after Prince's death, lawyers and family members have yet to settle his estate, believed to be worth hundreds of millions.
"It's not really difficult to create a will," Levine said on WZZM. "Taking the time and actually going to a lawyer who practices in estate planning is important and critical … because the lawyer will know what it is that should be written and how to write it in a way that is well defined and concise."
Learn more about Levine & Levine's wills and estate planning services, here.