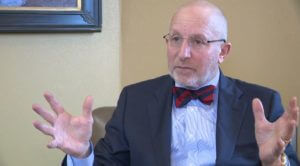 Levine & Levine Managing Partner Randall Levine talked with WWMT-TV Channel 3 on Wednesday, Feb. 13, about how the new state law legalizing marijuana use for adults 21 and older impacts the workplace.
While Michigan voters approved recreational marijuana use last November, employers still have the right to prohibit marijuana use on the job — and to test for it. Many employers are now revising their company policies regarding its use.
"The employer has the absolute right to insist that the employee be drug-free," Levine, a criminal law and business law expert, explained in the WWMT interview. "If an employer has a policy that says no THC in the bloodstream, then an employee who violates that policy can be subject to discharge."
Levine explained employers are required to inform employees on company policies.
"The fact that a person may no longer in Michigan be prosecuted for marijuana does not in any way curtail an employer's right to insist his employees not smoke marijuana while they're at work," he said.
Watch Levine's full interview with WWMT about the new marijuana law, here.