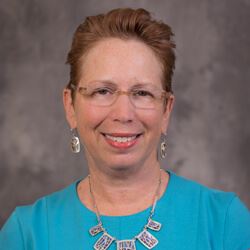 Sharan Levine, attorney, and partner of Levine & Levine were honored March 23 during a reception at the Detroit Marriott Troy as one of 30 lawyers in Michigan Lawyers Weekly's Leaders in the Law Class of 2017. Levine has more than 35 years of experience in all aspects of representing small businesses including business formation, business succession planning, and compliance, probate and estate planning, and trust administration.
Every year, Leaders in the Law are honored for their significant accomplishments in law practice; outstanding contributions to the practice of law in Michigan; leadership in improving the justice system; improving the legal community and their communities at large; and setting an example for other lawyers.
"Being recognized as a leader in the profession is an honor," said Levine.
Levine is a WMU-Cooley Law School graduate who has demonstrated leadership at the national, state, and local levels throughout her career. From 1982 to 1984, she served as president of the Southwest Region of the Women's Lawyers Association. Shortly thereafter, she was appointed by the Michigan Supreme Court as a Commissioner to the State Bar of Michigan Board of Commissioners. At the local level, Levine served as the Legal Affairs Correspondent for National Public Radio Station WMUK in Kalamazoo from 1985 to 2005.
Levine is a member of the Small Business Forum of the Business Law Section of the State Bar. In the last several years, she has developed a private practice representing business entities and families throughout West Michigan. Recently, Levine focused her efforts on raising awareness for the need for a Veterans Treatment Court in Kalamazoo to improve the community's legal system. In late September 2016, she co-hosted an event with her partner Randall Levine to educate the community about veteran treatment courts.
In 1987, she was awarded the "State Bar of Michigan, Wade McCree, Jr. Advancement of Justice Award," which recognizes Michigan broadcast and print media journalists who foster greater public understanding of the integral values of the legal and judicial system through their published materials.
Levine is certified by the Institute of Continuing Legal Education in probate and estate planning and has been a shareholder and partner of Levine & Levine since 1989.